Textile recycling has become part of the popular recycling culture in the UK. Every year, more and more Britons are becoming aware that, just like plastics, paper, glass, and other recyclable materials, textile waste is threatening the well-being of our planet and aggravating the global climate crisis.
The fashion industry is fast-growing. According to the UKFT (Fashion and Textile Association), the sector contributes about £20 billion to the UK economy. However, textile production is also associated with unnecessary waste creation, the use of toxic chemicals, and the emission of CO2 gas and other toxic substances.
From a fashion demand perspective, the growth of the clothing and textiles industry and the fast fashion consumer trends have increased textile waste and put extreme strain on land, water, energy, and natural resources.
Moreover, these adverse effects of the overproduction and consumption of textiles don't seem to be coming to an end any time soon. According to the WRAP (Waste and Resources Action Programme), the demand for textile raw materials will triple by 2050. Such an enormous increment could mean more textile waste and augmented pollution.
So, what should we do?
In our production and consumption of textiles, we need to realise that the "take-make-dispose" linear economy is taking a toll on our ecosystem and adopt the "reduce-reuse-recycle" principles of the greener economy.
Reduce, Reuse, Recycle Your Clothes!
There's no doubt that the UK apparel and clothing sector is famous for its attention to details and quality at home and abroad. The UK produces about 9.1 billion in clothing export each year, and UK households spent about £57.3 billion on clothing in 2021. On the flip side, clothing worth £140 million is sent to landfills in the UK.
These figures underscore the undeniable need to increase the awareness and practice of textile recycling.
Reducing, reusing and recycling clothes implies:
Reduce:
Take care of your clothes to give them a longer life.
Opting for quality over quantity when purchasing clothing.
Opt for slow fashion by buying clothes made from environmentally-friendly and sustainable textiles.
Resist the urge to buy into trends.
Use clothing rental services instead of purchasing new ones.
Reuse:
Wear clothes you already have more often until they are worn out.
Repair clothes still in good condition and reuse them.
Recycle:
Donate your clothes to those who need them.
Deposit your clothes into textile banks.
Upcycle your used clothing into new uses.
Sell your clothes for money.
What are Textiles?
Textiles are any fabric or clothing materials made from natural or synthetic filaments, fibres, or yarn.
Natural textiles are made of organic materials like wool and cotton, while artificial textiles are made of industrial man-made materials, usually polyester textiles.
Whether natural or synthetic, textiles are turned into cloth or fabric through a variety of methods, including weaving, felting, knitting, knotting, braiding, crocheting, and tatting, among others.
The method used to make fabric from synthetic or natural fibres does not limit its recyclability. Besides, most textiles can be upcycled into a fresh look and a new purpose.
Upcycle your clothes into something new
Upcycling also called creative reuse, is the process of repurposing products or waste items into a new reusable form for environmental conservation or giving the item a unique artistic nature.
Upcycling clothes turns textile waste into new usable fabrics, giving the textile items a second life and keeping them from landfills or incinerators. Even worn-out or stained clothes can be upcycled into new items.
There are innumerable ways to upcycle your clothes into something new. Let's talk about a few of those.
Repurpose your clothes into home decor
You can give your clothes an extended life with just a pair of scissors and other art tools like staples and glue to create a variety of home decor. Here are a few examples:
Turn your denim into a wall hanging. You can do this by cutting the denim into strips, tying them on a branch, and using one of the pieces to hang the branch lined with denim pieces on the wall.
Use fabric from old clothes to cover picture frames. You can easily cut the fabric into the desired shapes and sizes and use glue to stick them onto the picture frame.
Turn messages on clothing into frames. Cut the section of the old clothing that bears the infographic and wrap it around cardboard, so the message stays at the front. You can cut out yarn from the remaining cloth to hang the frame. Alternatively, you can frame the piece of fabric with the message.
Make a Quilt Out of Your Clothes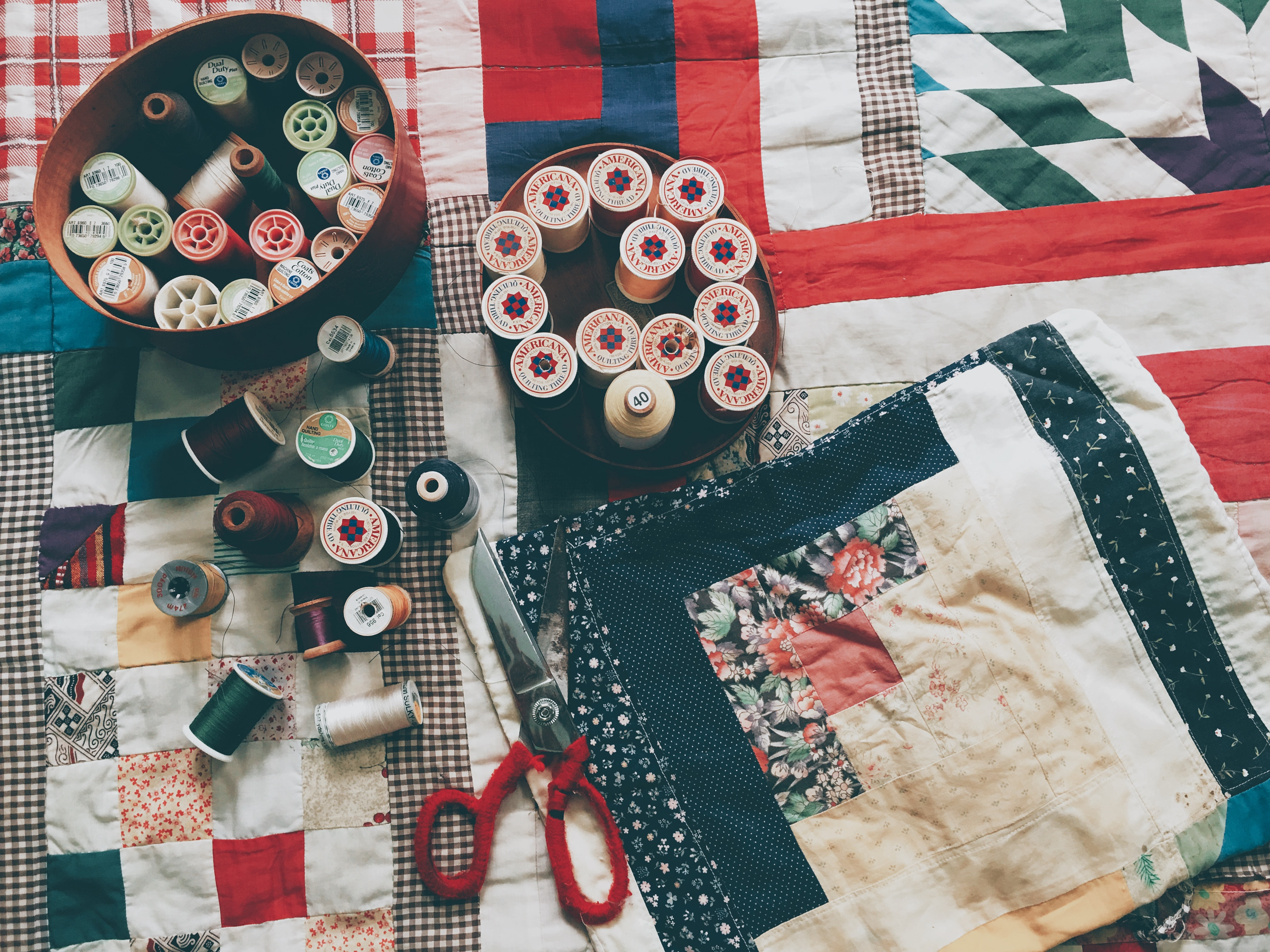 DIY quilts can be made from various old cloth types, including old ties and accessories, old sports t-shirts and jerseys, and old jeans.
To make the quilt, cut the clothes into blocks and design them to create a patchwork. Then sew them together to create the quilt. You can get more ideas about how to make your own quilt at home in this video:
Make a bag out of your clothes
Making a bag out of an old cloth can be fairly easy. An easy old-clothes bag can take less than an hour to make. Here are the steps to a quick example:
Draw the bag pattern you want to make on brown paper, cut it out, and then pin it together for a preview.
Fold the old cloth into two so that the side you want to hide is on the outside. This is the side that will go inside.
Place the pattern on the folded cloth, pin it onto the fabric and cut out the cloth.
Sew the sides of the bag cut out, leaving the top part open.
Flip the edge of the top part over to make a 1.5-inch hem and stick it.
Cut a piece of elastic enough to make gathers and leave the size of the opening you want for your bag.
Pin the end of the elastic to a safety pin and pass it inside the hem, so the elastic is inside the hem. Stitch the ends of the elastic together when the pin is out at the other end.
Cut out a strap from the remaining cloth and stitch it onto the bag.
Add accents to the bag. It could be buttons, laces, ribbons, or handmade designs from other old fabrics.
Your bag is now ready for the next time you go out.
Make a scarf out of your clothes
Scarfs can be easily made from old sweaters or other textile scraps. The simplest design lets you skip sewing. You simply cut out the top part of the sweater and fold the cut edge to the inside, and your scarf can now be slipped onto your neck. You can, however, sew on buttons to firm the cut edge.
Make a pillow out of your clothes
Making a pillow out of your clothes can be easy, but making the stuffing will require some time. You simply cut out the pillow material and sew the case, then choose the textile filling material and snip it into small pieces. Once you are done, stuff the pillow and stitch to close.
Turn your clothes into rags for cleaning!
Turning used garments into rags is the easiest way to upcycle clothes. Things like old towels can be turned into rags as they are. Others, like old t-shirts, can be cut out into desired shapes and sizes and used as dusters or with a dust mop.
Donate your clothes to those in need!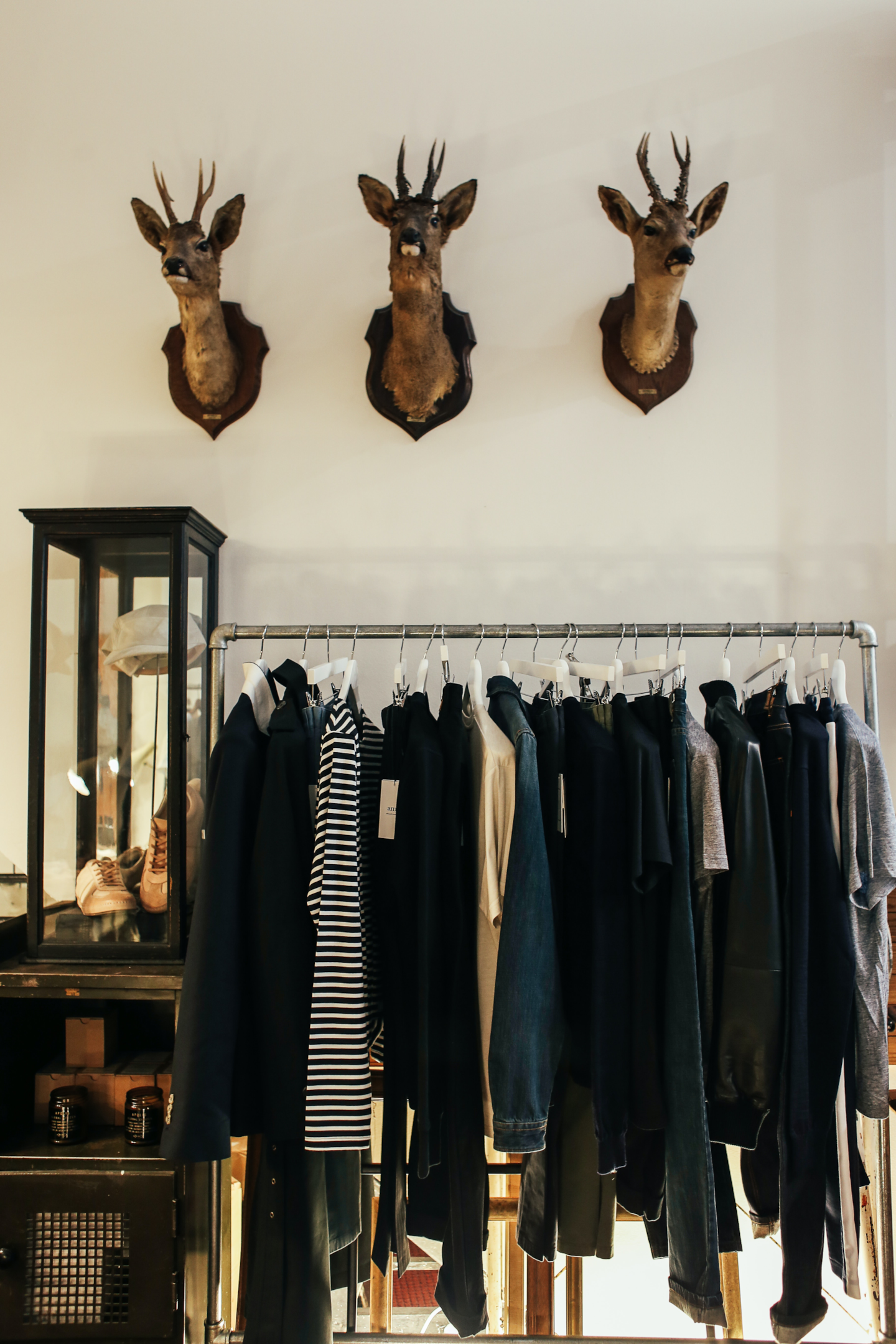 If you have clothes in good shape, consider donating them to those in need. Clothes in good condition can be donated by:
Handing down clothes. Passing clothes from one child to the other in a family or giving them to friends or someone who need them.
Donating clothes to church and non profit organizations. For example, you can use the Charity Retail Association website to find a shop for clothes and accessories near you.
Alternatively, you can visit the websites of organisations such as the British Heart Foundation and find out how you can donate used clothes to contribute to the millions they put into heart research projects each year. Some agencies, such as Collect My Clothes, also offer free clothes collection services and recycle clothes to raise funds for charities.
Sell your clothes for cash!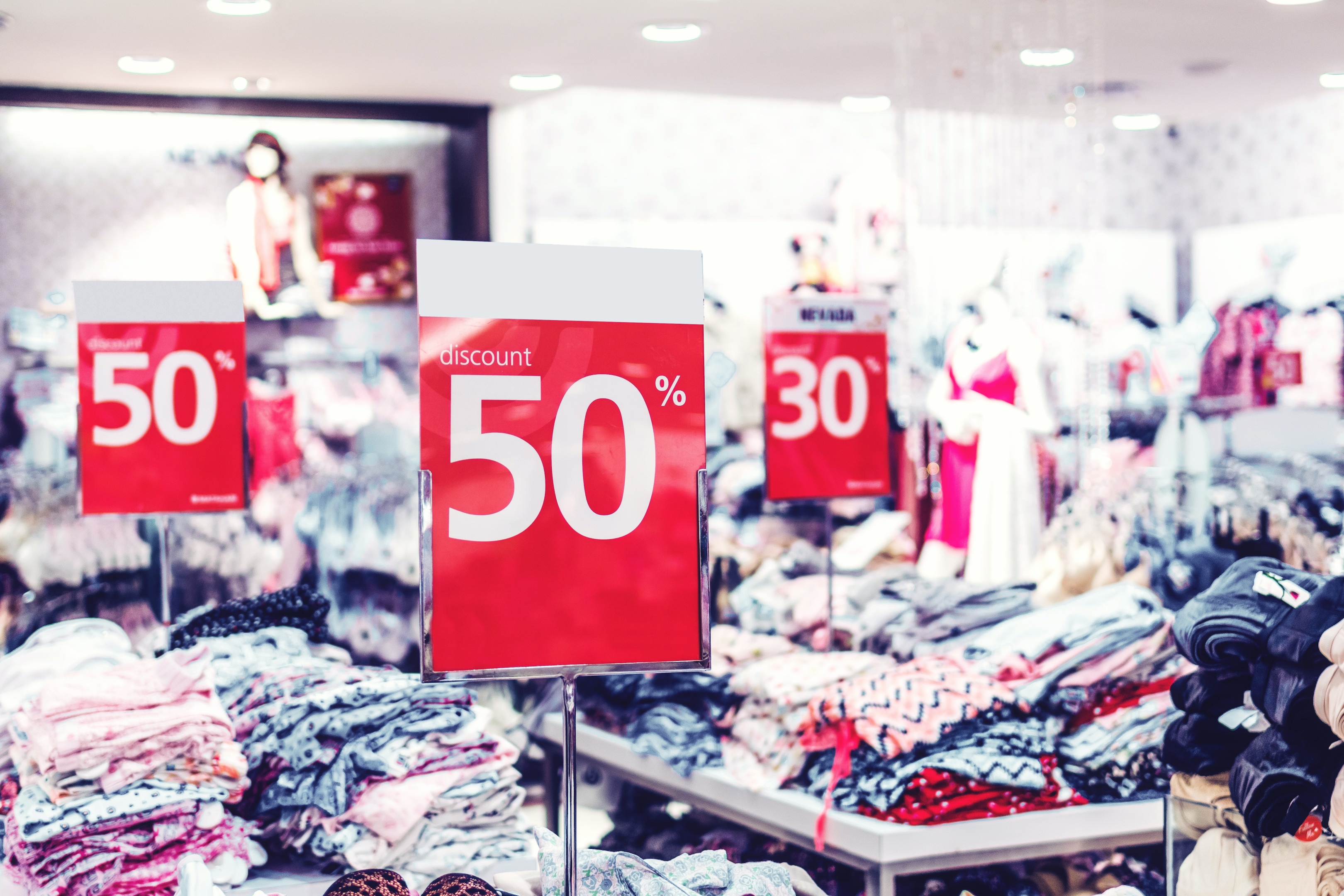 No one would mind a bit of extra cash. So, if you get some money selling your clothes, you'll save the environment and get some cash at the same time.
Options for selling your used clothes can be both local and online.
Online, you can choose among some of these options:
Locally, you can enquire about local 'cash for clothes' shops from people around you or use the UK dressagency directory to find a local dress agency near you. You just need to key in your town name or postcode, and you'll be supplied with options.
Renting your clothes is also an option for getting some cash from your used garments. This is a good option when you have too many clothes in your wardrobe but don't want to completely part ways with the clothing item. Examples of online spaces where you can rent (and buy) clothes for cash include By Rotation and My Wardrobe HQ for luxury fashion.
Questions
If you still have a few questions about textile recycling, you can find answers to those below.
Where can I recycle textiles?
You can recycle fabrics at a clothing and textile bank in a supermarket, at car parks, at shopping stores or other recycling points. Alternatively, you can search online spaces for your nearest textile recycling location. Examples of online search spaces for textile recycling include recyclenow and loveyourclothes.
What are the benefits of recycling textiles?
Textiles disposed into landfills take hundreds of years to decompose. During that time, they release methane and CO2 gas into the environment and toxins into the surrounding soil and underground water sources. As such, textile recycling has the following benefits:
Reduces virgin textile fibre exploitation and the importation of the same from abroad.
Saves landfill space.
Reduces pollution from textile processing and textiles disposed of in landfills.
Promotes energy savings in the textile industry.
Reduces the use and production of toxins from dyes and fixing agents.
What are the challenges of recycling textiles?
Textile waste is the fastest-growing Municipal Solid Waste (MSW) globally. Current efforts to recycle these vast amounts of waste face many challenges, including these 3:
Sorting textiles into the different fibres and eliminating contaminants such as buttons and zippers is a labour-intensive process.
Hard-to-recycle synthetic fibers made from polyester based textiles still ends up in the trash or landfill since these are harder to recycle and have lesser chances for reuse.
There's too much clothing waste, and many municipalities do not take textiles into the recycling programmes. Also, fabric waste delivered for donations or resale often ends up in landfill anyway because they are out of season or have flaws.
What are the most common textile materials?
The most common textile materials can be categorised as natural or synthetic materials. Natural textile materials come from animals and plants and include cotton, wool, leather, and silk. Synthetic textile materials are made from chemical compounds and include polyester, nylon, acrylic among other textiles.
Multi-material textiles are also common and are obtained from a mixture of natural and synthetic fibers.
What are the best methods for recycling textiles?
The best method for textile recycling is mechanical or physical recycling. This entails reprocessing pre consumer fabric scraps and post consumer textile waste recycling into new products using a reclamation process or commingled plastic waste processing. Physical recycling is cheaper, simpler, and more environmentally friendly than chemical recycling.
Because of this, physical recycling is preferred over chemical recycling, which involves the conversion of high molecular weight polymers into low molecular weight materials.
What are the most common uses for recycled textiles?
The most common uses of recycled textiles include reselling them at secondhand clothing stores and charity shops and reprocessing them into other textile products, yarn, paper, blankets, carpet padding, car seats, or insulation.
Specifically, recovered materials can be turned into specific products, as shown in the table: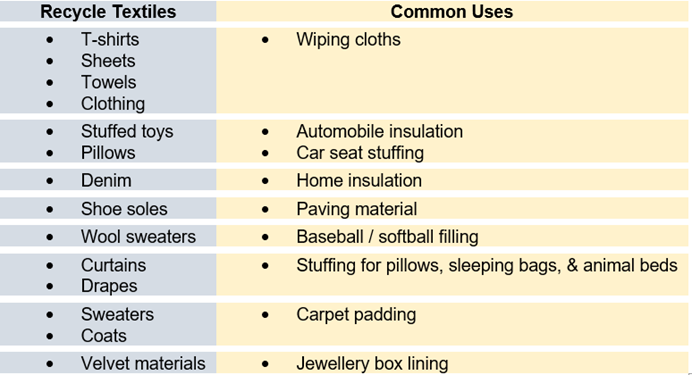 How does the recycling process work for textiles?
Once consumers deposit clothing waste into textile recycling banks, the fabric waste is taken to Material Recovery Facilities (MRF) for sorting into either reuse, rags, or fibre.
Recyclable post consumer textiles and industrial fabric scraps are sent to recycling plants. Here, natural textiles are pulled apart into yarn, cleaned and spun, and then re spun in preparation for subsequent use in creating new textile products. Polyester fabrics are shredded into polyester chips, melted under high temperatures, then reused to make new polyester fabrics.
What are the environmental impacts of recycling textiles?
Textiles have the 4th highest negative impact on the environment after food production, housing, and transport. While the benefits of textile recycling mostly come from saving virgin raw material textiles, recycling textile waste can negatively impact the environment when the clean production of textiles from new materials is replaced by recycling processes with a higher CO2 footprint.
Also, the transportation of high quantities of used textiles to developing countries can adversely impact the environment, cancelling out the benefits of recycling fabrics.
How is textile recycling beneficial?
Textile recycling and reuse are beneficial because they have a smaller environmental impact than disposing of textiles in landfill or sending them for incineration. Besides, textiles in landfills go for hundreds of years without decomposing and release toxic substances to the environmental. Textile recycling uses lesser energy resources and saves on raw materials.
How does textile recycling help the environment?
Textile recycling reduces the amount of textile waste sent to landfills, turns waste into new usable products instead of exploiting new raw materials, and reduces the overall carbon dioxide print created by textile processing.
How does textile recycling help reduce pollution?
Reprocessing textiles reduces pollution by replacing the energy-intensive processes that create textiles from virgin raw materials. In addition, recycling keeps fabrics from landfills where they would produce carbon dioxide and methane pollutants for hundreds of years. Reducing the use of natural fibers for textile production also minimises the amount of pesticides used to produce textile raw materials such as cotton.
How does textile recycling help conserve resources?
Textile recycling minimises the exploitation of new raw materials such as cotton and wool. Further, reprocessing textiles reduces the strain put on land, water, and energy resources when new fibers are created.